MeVis software offers a gentle and highly accurate alternative to colonoscopy. Instead of the conventional 30- minute endoscopic examination of the colon, it takes only a few minutes to acquire a CT-scan which is evaluated by means of virtual endoscopy - absolutely painless for the patient and associated with a considerably lower dose of irradiation compared to conventional CT-examinations.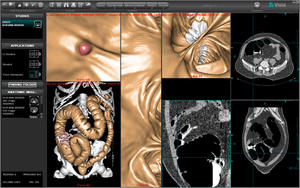 During this procedure, hundreds of images are taken. Their efficient evaluation is challenging, as even smallest details and correlations are crucial.
The MeVis software composes the images, improves the image quality and generates not only an interactive, three-dimensional image of the colon, but automatically analyses it for suspicious structures like polyps etc.
The MeVis application selects all information which is relevant for the physician and makes it usable for him - supporting a rapid and precise diagnosis.